How Jewellery Can Be Slow Fashion – A Journey Through My Bead Box
By Emma Wood
I've long been fascinated by jewellery and often use the mantra 'accessories always fit' – it's not always true (which we'll cover later on) but in general when I can't find some trousers, a necklace or even a handbag will always do instead!
I have quite a collection these days (or so my husband keeps telling me) and am regularly drawn to the glass cabinets and display boxes in antiques shops, vintage stores and on markets. Actually, as a form of slow fashion buying antique or preloved jewellery is not only good for resources, it provides another income stream for the economy and gives me not only the thrill of finding something new but an item truly unique that no-one else will have. The satisfaction from this kind of shopping is immense.
You can really spend what you want from 2 or 3 pounds to £100s and I tend to stick to the under £15 mark where I know I can still buy some lovely stuff but my husband can't moan too much! The beauty of a good piece of jewellery is that it can spice up an otherwise boring outfit or even change something's flavour all together!
I do generally try to buy glass or stone/semi-precious necklaces as they feel much nicer than their more modern and lightweight plastic counterparts. That's not to say I'm a snob about it, I own many modern shop bought items which were often bought to serve a particular purpose or style requirement but they are often reconstructed and reinvented as I've fallen out of love with the style but not the beads. In any case, can something be called fast fashion if you still own it after 15 years?
Even older pieces can be transformed with a makeover. These blue beads were originally 3 strands which is far too much for me so I separated one strand and converted it into a single and a double which are really nice to wear. The emerald green crystals pictured later, are also an example of a reconstruction as there appears to be something missing from the drop.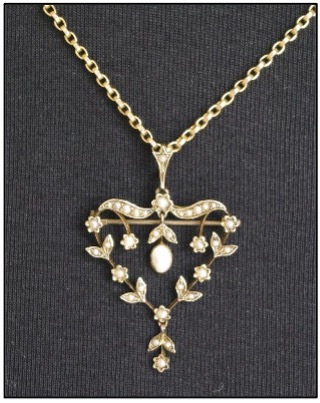 My first and most treasured piece was a family heirloom from my Great-Grandmother, still has its original box and was worn as my 'something borrowed' on my wedding day! Although not gold (I have been unable to find a hallmark) this beautiful and delicate piece is made with seed pearls and dates to the Edwardian period.
The rest of my vintage/antique collection is pretty impossible to date but I do have some stunning pieces that go back to the art deco period. It's possible that some aren't actually from the age but they definitely have the look and here are some of my favourites.
This green glass and metal necklace is quite probably true to the art deco or possibly even art nouveau period. Made with squashed glass beads, likely to be Bohemian (Czech) glass it's really pretty and I call it my burger necklace. The other two green necklaces are also Bohemian Art Deco with some fabulously shaped crystals but the one with clear crystals is probably the later dating of the two pieces.
The bright yellow glass in the next necklace is more definitively art deco with bevel cut Bohemian glass and a fantastic depth of colour – after years of owning this, I also managed to unearth a bracelet which is almost an identical match and only set me back a few pounds.

This stunning and somewhat fragile bracelet was simply a revelation. I bought it as I love turquoise and the metal work was a real grubby mess – on closer inspection it all turned out to be silver including the tiny tube-shaped beads up to the coloured stones. Due to its popularity, there are lots of facsimiles for turquoise but once I realised the silver fittings I knew the stones were very likely to be real too – a real bargain for only £5 and a good clean!

As it turns out my axiom about accessories fitting sometimes doesn't work and it's always wise to try on older, shorter styles of necklaces as they are often simply too small for our modern frames. I've always wanted a single strand of small coral beads as depicted by Jane Austen and it took me almost 2 years and well over £100 to find one the perfect length. Sadly, that also made it a little fragile and the stringing gave way, so it's currently a pretty pile of beads awaiting a professional to work their magic and get it back to me!
There are many pretty colours, styles and types of beads and stones and, as you can probably tell, I am very partial to green in particular. The first pictured with its cube-shaped beads is really old and I originally thought was made of jade as the colour was so beautiful – I didn't realise quite how many hundreds of pounds that would have cost me if true! It turns out to probably be sea glass and just like pieces of a broken bottle, pounded by the ocean, has a lovely soft, tactile feel. The second is also a reminder of jade but is actually a substitute derived in the Far East called Peking Glass, originally for vases and other glass objects, they eventually realised it captured the luminous quality of some precious and expensive stones. With its black and crystal accent beads this handsome piece is probably art deco in period and quite lovely to wear.
New materials are always coming on the market and lots of previously unknown stones were even used by the big designers such as Tiffany. More reasonable in price were the new advances in plastic materials such as Lucite, Celluloid and Bakelite and many pieces of colourful and fun jewellery were made. The yellow and black bangle is Lucite and quite delicate despite its thickness, as if dropped it can shatter – the funny discolouration is typical of this early plastic as it degrades over time. Sadly, I was very disappointed with this ebay purchase as it's obviously made for someone with tiny, ladylike hands! The amber coloured necklace is most likely Celluloid or Bakelite and is quite big and chunky, but such a great statement piece to wear – I thought it was amber until I realised how heavy it was as, strangely, real amber is very light indeed.
Often designed to mimic very expensive pearl styles in single, double and even triple strings (who can forget Audrey Hepburn's pearl collar in Breakfast at Tiffany's?), coloured plastic and glass beads were in their heyday in the 50s and 60s in elegant and stylish designs, often in pastel colours but sometimes very vivid too (See the cherry red beads from the opening pictures). Earrings tended to be cushions or clusters in the period and hooped styles only really appeared in the 60s and on the young and fashionable.
Other more dressy styles existed in crystal, cut glass and diamante echoing the real stones worn by extravagant jet setting stars of the age such as Princess Margaret and Elizabeth Taylor. Taylor's collection of jewellery was legendary from designer supremos such as Bulgari, Cartier and Van Cleef & Arpels and included some of the most amazing named stones in the world such as the 33 carat Krupp diamond and the 16th century La Peregrina pearl owned by Spanish and English royalty – I, however, cannot ever aspire to such heights, so am happy with my crystals and glass!!
Fashions change but are also constantly recirculating giving intrepid collectors like me the opportunity to give preloved jewellery another home in another age. I even have a pendant fashioned from some silver-plated cutlery and as the planet's resources get scarcer, I, for one, am happy to be not buying new!!!